a little
about us
Nature tourism in a unique environment
Isatour is an accommodation and tourist entertainment company, in a typical rural village of the Center of Portugal, Adsamo, Vouzela inserted in the Vouga-Caramulo Natural Park.
In the middle of nature, rich in silence, mountains, fresh air, springs, active rural life and unique views!

Explore the
Houses
meet our offer
ISATOUR
NATURA PARK HOUSE
ISATOUR
HOUSE IN SIERRA
ISATOUR
HOUSE WITH VIEWPOINT
Our services and amenities
At Isatour we offer several amenities and personalized services, providing you with an unforgettable stay and experiences.
see all amenities and services
Free Internet
Wi-Fi access available throughout the house.
Free Bicycles
We provide 2 bicycles so you can enjoy the surrounding nature.
free parking
Free public parking is available at a location nearby.
Pedestrian circuits
Enjoy several pedestrian circuits in the region.
Equipped kitchen
Fully equipped kitchen: Dining table Toaster Stovetop Oven Cooking utensils Electric kettle Kitchen Washing machine Dishwasher Microwave Fridge
Rural Experiences
Experience a bit of rural and agricultural daily life by participating in herding tasks, picking blueberries and much more...
isatour houses
gallery
Discover the houses and the surrounding nature
Testimonies of the
Houses
" A treat from home! We loved our stay, very peaceful stay in one of the most peaceful places I have ever known. Welcoming local population! I loved the late afternoon and early morning skies! A place that I will definitely visit again. Isabel was an excellent hostess!
- Duarte
AirBnB Testimony Casa na Serra June 2019
" Wonderful rustic house for a few days of rest and exploration of the area. It has everything you need. Good beds, warm clothes, cozy atmosphere with AC and wood burning stove. Warm and very attentive welcome from the hoster. I will repeat, and I recommend 100%.
- Cease
AirBnB Testimony October 2019
" More than the house (Hidden by Airbnb website) so much on offer, it's the people who make the difference.
-Rui
AirBnB Testimony January 2021
" Isabel is very friendly and very dear. The house is very nice. It could be better in one of the rooms, having a shutter, it gets too much light in the morning... but otherwise impeccable and I recommend
- Cristina
AirBnB 2019 Testimony
"
All excellent, especially the hosts.
The location was extraordinary.
The fresh roll in the morning was delicious.
There was Christmas magic.
Extraordinary walking tours.
I felt like I was in my childhood.
- Antonio
Guest
"
From both Isabel and Daniela's sympathy.
From time travel to authentic rural Portugal.
Spectacular breakfast, varied and with homemade products.
Excellent value for money!
- Olga
Guest
"
Welcoming service, with enormous availability to serve you well.
The house is very well equipped and the comfort of the room is excellent.
- Vitor
Guest Booking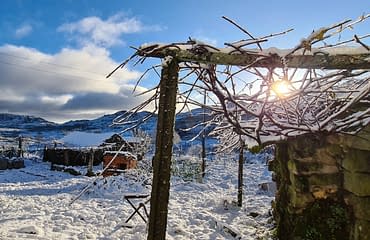 January 15, 2021
We share with you some of the natural wonders you can find in Adsamo. One of the most beautiful, in addition to all the natural surroundings, is undoubtedly the...
Read More
Sustainability

Certification
At Isatour we are committed to the development of a sustainable activity, so we develop and implement a set of sustainable practices, obtaining Biosphere certification.
Subscribe to our newsletter to receive exclusive discounts and offers.